Every week I like to share a few things I find interesting. Mostly video content with an occasional website article. All of the content you will find in these posts is free to you. Remember that liking, subscribing, or sharing free content goes a long way in helping produce more free content. If you like that creator's work, share it! Also, thank you to those who send me links through the week when you find something really interesting.

---
gotwoodworkshop.com
I clicked through to this website from an instagram post and found this really awesome looking corner computer desk. Very inexpensive materials. Check it out! (click the image)
christophermerrill.net
Earlier this week I asked on my Facebook page what is the homemade jig or tool in your shop that you can't live without and got a lot of interesting responses. This was one of them. The ultimate tool stand. Definitely a multi-function space saver. (click the image)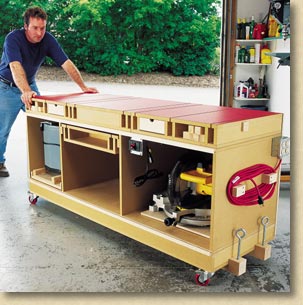 The Minister's Treehouse
Woah….. woah. This is absolutely insane and I sooooo want to go see it. Unfortunately the fire marshal has shut it down due to building code violations. There are a few more links in this article to read more about it. So crazy. (click the image)
Get Hands Dirty
I was really tempted to do this but in the end went another route. Pretty nifty idea though.
Boris Beaulant
A rather unique presentaion of a brilliant idea and design execution.
Moy perez woodshop
Another entry into the 2015 Pallet Up-Cycle Challenge. Moy made an ice chest inspired by a Civil War era ammunition box. Nice chest and a super interesting table saw setup.
GoodsHomeDesign.com
Hopefully this amazing transformation will spark some ideas in your head. A wasted space attic renovation that turned out well beyond awesome. Everything about it looks great including the clevar entry. Although my garage attic is framed the exact same way I do not have any desire to finish the space above my shop. There are 4 pages of progress pictures so be sure to click through to page 4 and see the amazing final results. (Click the image)
frank howarth
Great production as always from Frank. As well as a clevar floating shelf setup.
Wood Culture Tour
Another very well done Sam Maloof short movie. Sam Maloof – My Last Days
Marcenaria Amadora
Kids these days are so into technology that they sometimes don't appreciate homemade woodworking gifts. This one is sure to get their attention. Not in english but you can get the idea of the project.
How Its Made
The last two clips this week are from the TV show How It's Made. These are always interesting. First a bench plane, then railway bridge ties.
---