Occasionally I like to share a few things I find interesting. Mostly video content with an occasional website article. All of the content you will find in these posts is free to you. Remember that liking, subscribing, or sharing free content goes a long way in helping produce more free content. If you like that creator's work, share it! Also, thank you to those who send me links through the week when you find something really interesting.
---
AlabamaWoodworker
Lets start this one off with a bang. Incredible craftsmanship by Huy. He does a great job explaining his process and showing all of the jigs he created along the way. Even if you have no desire to build a chair this one is definitely worth the watch just from all the little things to pick up on. There's sooooo many good techniques in this video. All the way down to clamping odd shaped items in the vise. Lots to learn here.
Subscribe to AlabamaWoodworker: https://www.youtube.com/channel/UCZLbHFXOUTGEKuzXDwGVrZA
RobCosman.com
Rob is one of the few great hand tool woodworker instructors who creates online content. He also developed a great program called the Purple Heart Project. Rob Cosman's Purple Heart Project Mission is to introduce physically or mentally combat Wounded Warriors, still suffering from the negative effects of combat, to the peace and joy that can be found through the therapy of traditional hand tool woodworking. By supporting any of his content and by purchasing any of his line of tools you are also supporting his great cause. The following video is just one of many that Rob uploads frequently with his "live action" style. This is real woodworking, real problem solving, in real time.
You can find out more about the Purple Heart Project here: https://robcosman.com/pages/php-what-is-php
Subscribe to RobCosman.com: https://www.youtube.com/channel/UCqp8oXLR84eiryfhNXK-nTA
Keith Johnson Custom Woodworking
This table base says "strong" to me. It also reminds me of those similar shaped but much smaller spike/ball shaped toys I had growing up that were brutal when stepped on. Anyway, great woodworking from a channel you might not be familiar with. Great Instagram content from him as well.
Subscribe to Keith Johnson Custom Woodworking: https://www.youtube.com/channel/UCb60k9TqVgUxi0uL2IATxXA

Modern History TV
What's the difference between a tool and a weapon? Great question. Watch and learn. An interesting thing to ponder is the role of a "maker" back then.
Subscribe to Modern History TV: https://www.youtube.com/channel/UCMjlDOf0UO9wSijFqPE9wBw
finehomebuilding
Holy interesting shop furniture, Batman! I LOVE this design. A lot of problem solving here. The quick access shelves on the sides are perfect. I don't find the internal cavities of my current assembly table very convenient at all. I'm contemplating giving this design a try. Maybe some cabinetry with drawers down below? I'd be down for this design with a sheet of MDF and 20mm dog holes on top. Not glued down. Just screwed on from above so it's super easy to change out as it gets chewed up.
Subscribe to finehomebuilding: https://www.youtube.com/channel/UCPoqanqHbWlBnZPrKggS34A
Do It Newitt
Those vises are DANGEROUS!!! ;) Great thinking here.
Subscribe to Do It Newitt: https://www.youtube.com/channel/UCPKxdBPyqmh615kW2cTiuKQ
우드로이현 Woodro LeeHyun 목공TV
I've been fascinated by this guys channel for years and have never understood a word he has said. The machine he built is incredible. The form factor of a CNC with the function of an entire shop. It's not a CNC though. Just a powered Z axis and a fluid moving X and Y. Ingenious.
Subscribe to 우드로이현 Woodro LeeHyun 목공TV: https://www.youtube.com/channel/UC3j4idrydNU-iz9NCeQu0_A
mwawoodworks.com
I love the concept of being able to just throw a couple plywood assemblies on the table saw and get to flattening. Probably one of the most accessible and repeatable DIY slab/board flattening jigs I've seen. Click the image to read more.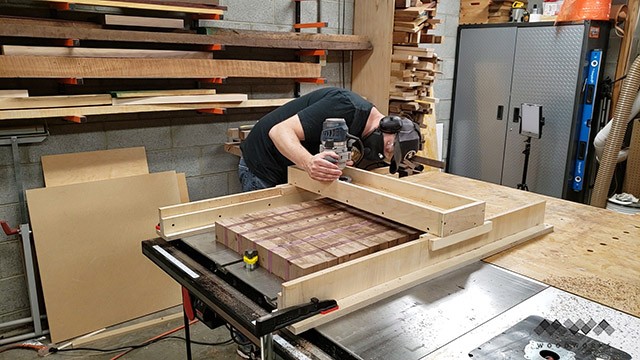 Paint Life TV
Chris' story is great. The analysis of his law enforcement career vs painting career is something to really think about. There's nothing quite like your work putting a smile on someone else's face. If you're not familiar with his YouTube channel be sure to click through and soak up as much as you can. He has a lot of great tips and tricks in the painting and renovation realm.
Subscribe to Paint Life TV: https://www.youtube.com/channel/UCnrhmEmvA_bIRYkBVPqJ4zg
Wood Nerds
Storage, storage, storage. Something like this is a GREAT first project for someone starting out with a shop space. Getting organized from the beginning is a great first step.
Subscribe to Wood Nerds: https://www.youtube.com/channel/UC1AkuPnrgrp2qqC7_udTS6A